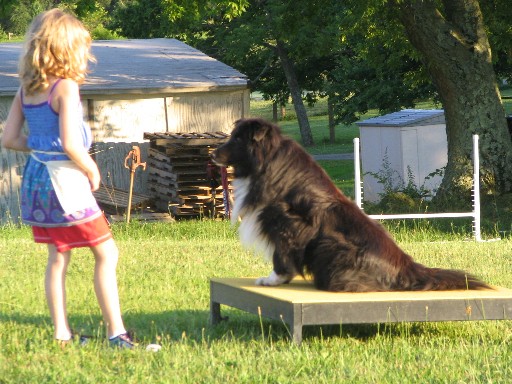 "Willo'Wisp Ventura Farscape, CGC, RN TDI"
"D'Argo"
(Click on name to view pedigree)
D'Argo is named after a character on the former Sci-Fi Network series "Farscape", D'Argo (pronounced like cargo with a "D"). He and his littermate "Scooter" (owned by Dr. Elizabeth Krause - who also owns their uncle "Ben") are from Ventura Shetland Sheepdogs in New Hampshire.
He had quite a bit of drive and performance potential even as a pup. However, D'Argo does not know the meaning of speed when it comes to competing. He loves Agility but just at his own pace - so opposite of little brother Scooter! However, D'Argo has another big job. He is Karen's demo dog for West Wind Dog Training's Safe Kids/Safe Dogs program. D'Argo was featured on WTTG Fox 5 DC Morning News with Karen and her son Connor to discuss dog safety.
D'Argo has started Rally. Much more suited to a dog who not only marches to the beat of his own drummer but actually has his own band playing. He got his first leg in Springfield, MA over Thanksgiving weekend, 2006. His second leg was in May of 2007 at Mattaponi Kennel Club with a Third place and a score of 99, (two weeks after the passing of Ryker). His third was in July of 2007 at the SSCGB summer Obed/Rally trial. Now that the UKC has added Rally as an event, Karen hopes to dust him off and start competing when there are local trials.
Now D'Argo is being handled in UKC Sub Junior classes (children ages 4 - 8) by Karen's daughter, Sarah, who was 5 in March '09. He is also the dog that the kids have used to learn with. He has endured grooming practice, Agility and Junior show.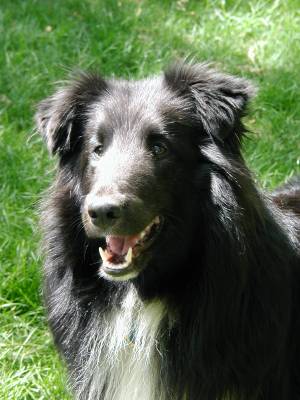 Note, we did let D's TDI registration laspe as we are concentrating more on Dog Safety and less on actual Therapy work now. But he and Seven did pass their TDI tests.