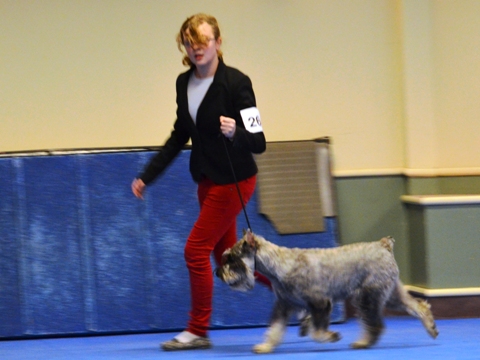 UKC Ch. Celtic Cross Into Darkness
(GCH Asgard Silver Patron x GCH Celtic Cross Wild Irish Rose)
Uhura was co-bred by Rose Miller of Celtic Cross Standard Schnauzers and Newfoundlands and Sarah. She is co-owned by Sarah, Karen and Rose.
Uhura was born May 2, 2014. Sarah worked hard to get this puppy and has been mentoring since she was 8 with Rose and her crew.
Uhura has already taken a Working Group 4 at a puppy match Aug 1 in Salem VA with a large and lovely group of puppies.
Uhura is showing in UKC for a bit while she matures and so far is doing well. There are not many Std Schnauzers in UKC but Sarah hopes to complete her UKC Ch. She currently has two of three competition wins and 50 of 100 points.